We all knew this was going to be a bold one. Something that made an unapologetic statement not just about gender, but about closed doors. Lipstick Under My Burkha was famous months before it released. After being dubbed too "lady-oriented" for mainstream audiences, the film, along with the enraged youth of India, fought and won. Last week, the movie released with a bang, dragging double standards and patriarchy by the hair into the colourful street lined with women in red lipstick.
The thing about this film is that despite being specific to a suburb in Bhopal, it has universal appeal. If you have a vagina, you have experienced at least one of these forms of oppressions to some degree. Not to mention how beautifully the inherent, unnamed, and untamed but stamped down desire that comes with being a woman in a society that's conservative is portrayed. The film begins with Ratna Pathak Shah narrating an erotica. Rosie, the protagonist of the book, is the personification of the four women's desires.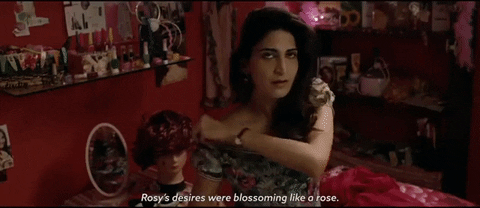 Usha (Ratna), an aging woman, is hiding her desire between the pages of religious tomes; Leela (Ahaana), an inherently sexual creature, exercises the freedom she does not have in her own life sexually; Rihana (Plabita) shoplifts the modern clothes her conservative parents would never let her purchase, using the burkha as her armour; Shireen (Konkona) is shackled to her abusive husband's libido and deemed worthy of only bearing him offspring. These four lives run parallelly, converging only occasionally, but the congruence in all their experiences will leave you breathless.
On the surface, Lipstick Under My Burkha is simply a film about a glimpse into the lives of four women. But what Alankrita Shrivastava has quite artfully done is given us a peek into the lives and necessary lies of women who seem to be leading free lives. We see how something as seemingly benign as taking a swimming class is seen as taboo for someone who is Usha's age and how Rihana has to hide her ripped jeans and passion for music behind her burkha in the bathroom every day at college before revealing her ripped jeans and scene haircut. These little rebellions set the tone for the film, taking you on a breathless journey.
Without giving too much away, I will say that the open-ended conclusion may leave you with a heavy heart and a head full of questions, but that's the nature of the story-telling in the film. It doesn't create a tale around the statement it wants to make; it lets the tale speak for itself. If you have any doubts about how good this movie is – as people do when the hype is this big – take a look at the reviews on any reputable portals. At the end of the day, the worst this film will do is leave you with an incessant urge to go on a feminist rampage. Although, that's never really a bad thing.